April 14, 2018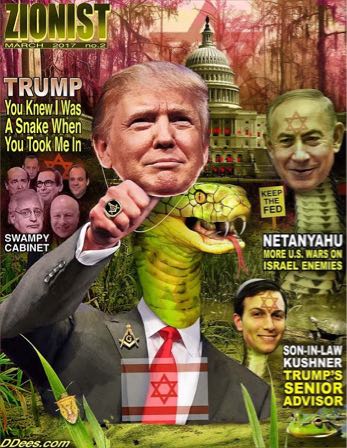 (left, Yes we knew he was a snake…)
BY HENRY MAKOW PH.D.
The airstrike on Syria today had nothing to do with chemical weapons.
It's more in the nature of a bitchslap, bullying, an assertion of Western dominance, a punishment for Russia's interference in Zionist expansion. The US, UK, Israel and France are all factotums of the Rothschild banking cartel. This attack and the coming world war is about the shape of the New World Order, unipolar Zionist or multipolar Western & Eurasian.
Watching the TV News Friday, I was struck that the US political elite actually believed the chemical attacks took place, as implausible as that is. The Western mass media is an extension of the Deep State. The Deep State is the network that serves the Rothschild central banking racket. Politicians like Trump, May, Macron and Nikki Haley are chosen for their lack of moral compunction, and ability to lie convincingly. They 
impose the Rothschild agenda on the people. That's their job.
DELUSIONAL
The Rothschilds and their minions are all Freemasons. Cabalists. The distinctive feature of Cabalism is the belief that there is no objective truth or morality. They think they can create reality to serve their interests and perversions. Saying is believing for them, not seeing. Jet fuel fires caused the World Trade Center to disintegrate into a fine dust. A Boeing 757 disappeared into the Pentagon. Sadaam Hussein had weapons of mass destruction. Countless mass shootings just happen to coincide with drills etc.  Reality? No problem. We make it up. 
Karl Rove repeated this Cabalist formula: " We're an empire now, and when we act we create our own reality. And while you're studying that reality…we'll act again, creating other new realities… We're history's actors and all of you will be left to just study what we do." (NYT Magazine, Oct 17, 2004)
This is the essence of Satanism: the denial of objective truth and morality. At its heart, the NWO is about being delusional; this is Satanic possession.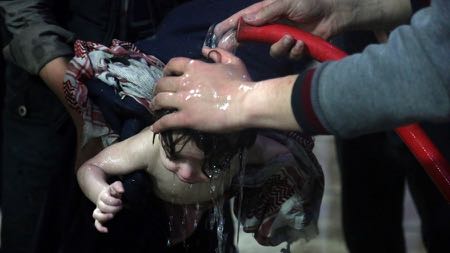 This self-delusion was on display recently in the two phony gas attacks. Saying makes it so. Who needs proof? It's just a stupid excuse anyway. Don't insult our intelligence while we're insulting yours.
In the Introduction to my book, Illuminati 3- Satanic Possession (2014)  I wrote: "If Russia is pushed too far, this disconnect from reality could easily degenerate into a nuclear confrontation." (p.13)
So the $60,000 question is, will Russia follow through on its threat to attack the attackers? Or will they indulge the lunatic West one more time because they are the only adults in the room? Russia is like Rodney Dangerfield. It can't get any respect unless it sinks a US battleship and kills 1000 sailors.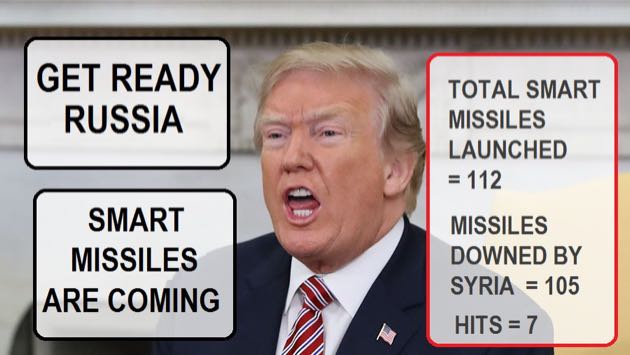 But the fact that Russia declined to attack any planes or ships suggests they will eat crow one more time. (They may have been informed that the attack will be merely face-saving.)
Russia has endured one humiliation after another from the Rothschild fart catchers in the West.
Inevitably Russia will have to burst the Cabalists' smug solipsistic bubble or succumb to domination and exploitation. Until then Russia is enabling some very dangerous behavior.
——–
Related – https://buelahman.wordpress.com/2018/04/14/monomania-method-to-the-madness/